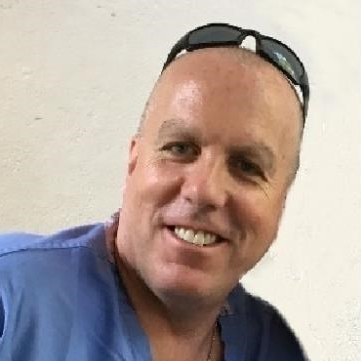 Beth Smolko, DMSc, PA-C
In memory of my friend:
Randall Dennis Walters, born December 15, 1965, died peacefully at his home in Ada, Michigan on Tuesday, December 17, 2019 at the age of 54.
Randy was born in Grand Rapids, Michigan. He attended Kenowa Hills High School in Walker, Michigan, graduating in 1984. After high school, Randy enrolled at Grand Rapids Community College where he pursued a degree in Fire Science. He fulfilled his childhood dream of becoming a firefighter by volunteering as an on call firefighter for the City of Walker in 1991, and being hired as a full time firefighter by the City of Grand Rapids the same year. Randy retired from GRFD in 2005 having achieved the rank of Captain, in charge of the EMS Division and having earned a Master of Public Administration degree. In 2009, Randy was able to achieve another lifelong dream to serve the United States by working as a civilian contractor in Iraq.
A life long learner, Randy embarked on a new career path upon his return and graduated from Western Michigan University in 2014, with a Master of Medical Science in Physician Assistant studies. Randy enjoyed working for Emergency Care Specialists, working in multiple Emergency Departments. It was shortly after graduating from Western that he joined the Ada Fire Department as a volunteer (you can take the boy out of the firehouse but not the firehouse out of the boy). It was also about this time that he decided to volunteer with The Heart of Medicine, a non-profit group providing medical care in Haiti, making multiple trips to work in a clinic in Marigot.
Randy was a loving, generous, and devoted husband and father. Never one to sit still, he was an avid outdoorsman who enjoyed hunting, fishing and camping (especially at his favorite spot in the U.P. near Lake Superior) and was well known for enjoying a cigar and scotch. Randy was also a pilot, earning his wings at the age of 19. Randy enjoyed traveling the U.S. and world with Brenda, as well as attending Detroit Tigers and Red Wings games. Randy was a member of the Sons of the American Legion, Belding Post 203, as well as the Grand Rapids chapter of AMBUCS. His wicked and dry sense of humor will be missed by all his family and friends.
[Excerpts from obituary published in Grand Rapids Press from Dec. 19 to Dec. 22, 2019]